The hiking paradise of the Wetterstein mountains lies at the feet of the quartier. Not only on skis, but also on foot or on two wheels you can discover our mountains. Garmisch has an extensive network of cycling and mountain bike routes.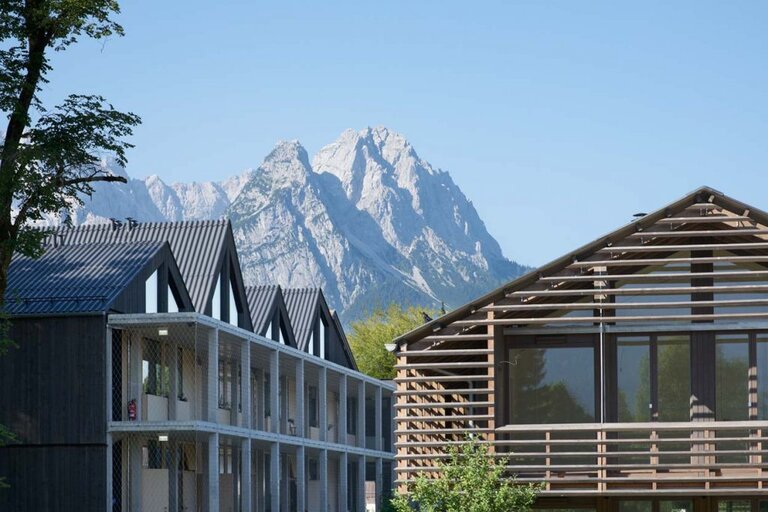 Mountain inn Sankt Martin, approx. 1h
One look in the direction of Kramer and you can already see the "Sankt Martinshütte". Since August 1920, the inn has been a popular meeting place for hikers and sledders in summer and winter.
After a leisurely hike of about an hour, you are finally rewarded with a view over the whole of Garmisch-Partenkirchen.
The Wetterstein Mountains are among the most powerful mountain ranges in the northern Alps, with Germany's highest mountain, the Zugspitze.
www.martinshuette-grasberg.de
Riessersee, approx. 30min
The Rießersee is located south of Garmisch in the Wetterstein Mountains. It was artificially created in a forest clearing in the Middle Ages.
It can be reached on foot from Garmisch in about 30 minutes. The circumnavigation of the small, beautifully situated and crystal clear body of water also takes 30 minutes. So all in all a very nice and manageably long walk with panoramic views of Alpspitz, Jubiläumsgrat and Zugspitze.
Kreuzeck Tour, approx. 2,5h
The Kreuzeck is a local mountain of Garmisch-Partenkirchen. The highest point of the Kreuzeck is the Kreuzjoch. The ascent paths of the mountain range are easy to master and always offer beautiful views of Garmisch-Partenkirchen. The mountains of the opposite Ammergau Alps, such as the Hohe Ziegspitz and the Kramerspitz, can also be seen. At the summit, the view to the south is also free., there impresses especially the Alpspitze.
Reachable on foot from Garmisch in about 2.5h or by Alpspitzbahn.
Schachenhaus & Königshaus, approx. 3h
The Schachenhaus is located at 1,867 meters above sea level directly below the Königshaus am Schachen, which is also known as the Schachenschloss. Originally it served as a supply for the Königshaus, today the Schachenhaus is a popular stop for hikers and mountain bikers visiting the Königshaus and the botanical alpine garden.
Don't miss June and July are the most flower-filled months. However, many areas - such as the Lesotho beds - are as exotic later as the first floor of the Royal House next door.
The Alpine Garden is open 8 a.m. to 5 p.m. daily from mid-June to mid-September,
Admission for adults 3.50 euros. Alpine Garden guided tour with a maximum of twelve people for 25 euros (registration required).
Healing climatic hike, approx. 2h
For those who want to actively do something for their health care and have fun at the same time, the three-hour healing climate hikes offered by GaPa Tourismus GmbH are just the thing. Under the expert guidance of certified healing climate therapists, locals and guests interested in health get valuable tips on how to increase their well-being quite easily. This includes manual pulse control, targeted breathing exercises, hardening and thermoregulation training. And many attractive destinations provide variety.
Booking
gapa-tourismus.de/erlebnisse
08821-1807736
More great recommendations
gapa-tourismus.de
Restaurants, Bars und Cafés in Garmisch